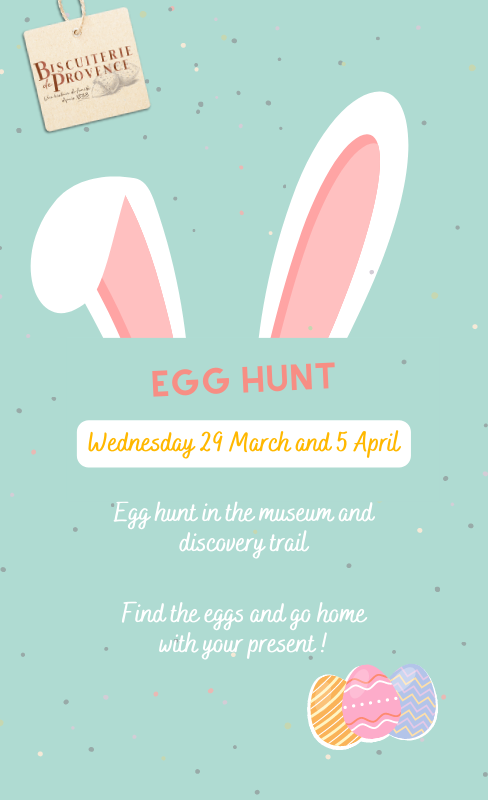 come and celebrate easter at la fabrique
On Wednesday 29 March and 5 April, take part in the Fabrique's egg hunt !
To have fun with your family and prepare for the arrival of the Easter bells, come and find the eggs hidden in our Museum & Discovery Trail !
It's a great opportunity to spend some quality time together as a family, and to leave with a chocolate gift.
On the two Wednesdays before Easter, March 29th and April 5th, the Biscuiterie de Provence welcomes your children for an egg hunt !
From 10 am to 6 pm, colourful eggs will be hidden in our Museum & Discovery Trail. This is an opportunity for parents to visit our space, and for children to have fun with the fun activities of our Museum & Discovery Trail while searching for the eggs.
Small baskets, clear instructions and fun activities, everything is provided to have a good time, a fun day for children and parents !
The little chocolate treasure seekers will be offered a small gift to celebrate Easter before the hour.
Little plus : Easter is on Sunday 9 April ! La Fabrique offers a multitude of chocolate treats to hide at home: shell eggs and Fabergé eggs, but also many chocolates in various shapes and flavours !
Comments (0)
No comments at this moment