Corporate gifts
Select our gift ideas or tell us
what you would love to offer
Exceptional corporate gifts to celebrate the end of the year with a local touch!
Dear businesses, the holiday season is upon us, and it's time to show your customers, employees, partners or other collaborators, how much they mean to you with our unique and gourmet end-of-year gifts.
At Biscuiterie de Provence, we are proud to present our special catalog of corporate gifts, specially designed to celebrate this magical period. Imagine offering a delicious selection of biscuits, cakes, calissons, nougats, chocolates, and much more, from traditional recipes and prepared with love.
Our Factory is committed to promoting local products and to favoring short circuits, thus helping to preserve the authentic know-how and the riches of our region.
To thank, celebrate, retain your customers and collaborators, the Biscuiterie de Provence accompanies you on all occasions for the development of personalized corporate gifts made according to your desires and your budget. Let yourself be accompanied by our expert teams who will offer you gifts that suit you.
Support a French SME focused on a responsible and local approach. You participate in the preservation of the authentic know-how of our regions and you favor short circuits In summary, you ensure the extension of your CSR approach to your gifts! Many advantages are available to you!
Preferential rates compared to public prices with discounts of up to 25%, personalized support from a privileged interlocutor who will listen to you and offer you an offer adapted to your budget, your desires, quantities, delivery dates, etc.
Personalized support from A to Z! Tailor-made proposals accompanied by photos for validation, personalized thank you cards in your image inserted in your boxes and individual or grouped shipments to best meet your expectations!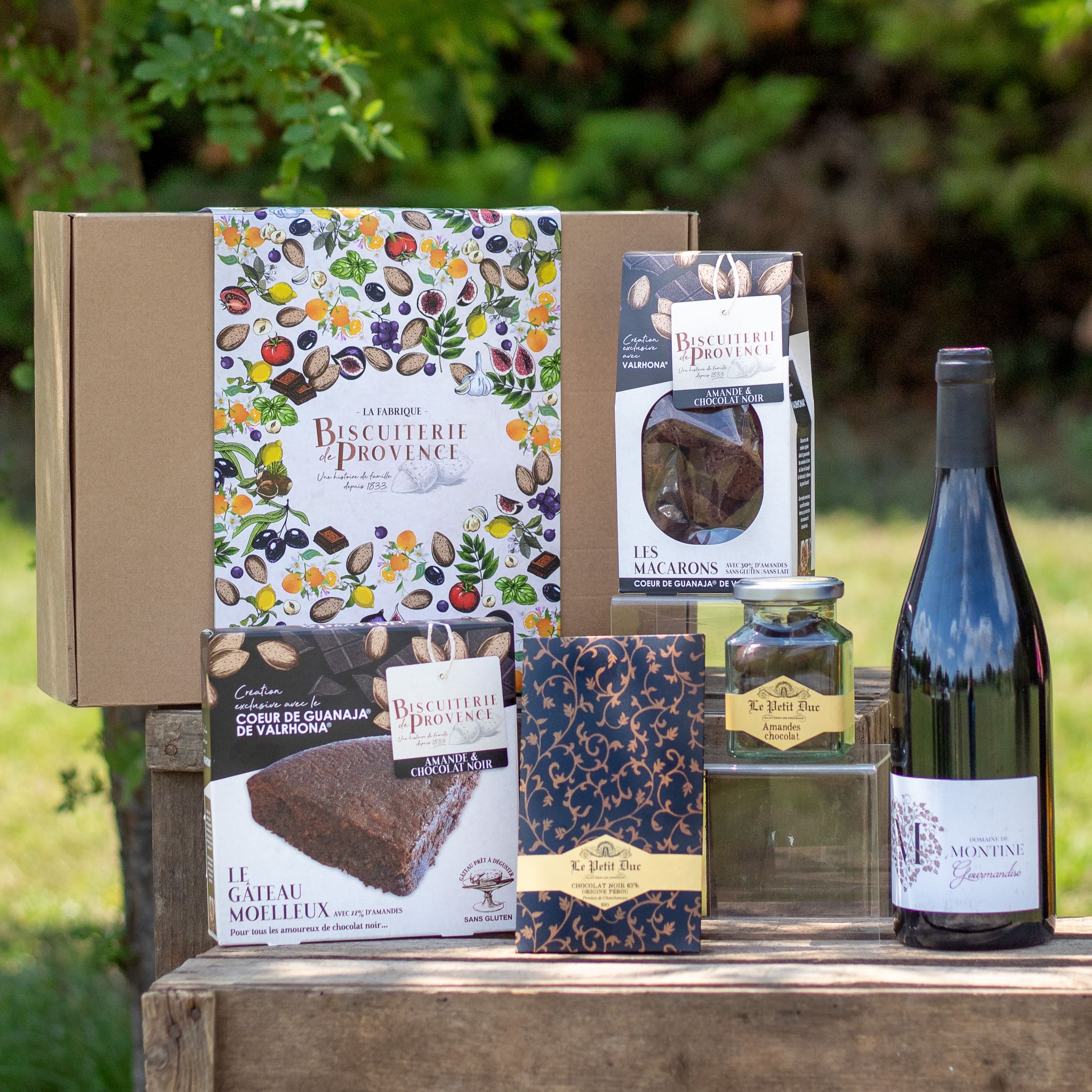 Who are we ? A family factory of biscuits, cakes, confectionery and chocolates located in Drôme Provençale
It is facing Mont Ventoux that we devote all our passion and our know-how to the development and manufacture of Biscuits, Cakes, Calissons, Nougats and Chocolates. Subtle blends of southern flavors, our savory or sweet delicacies testify to the riches specific to our territory.
100% natural and virtuous ingredients rigorously selected as much as possible from local producers. 0 dyes, artificial flavors, chemical additives, preservatives, GMOs or even palm oil! Only good eggs from free-range hens, almonds 100% from the Mediterranean basin.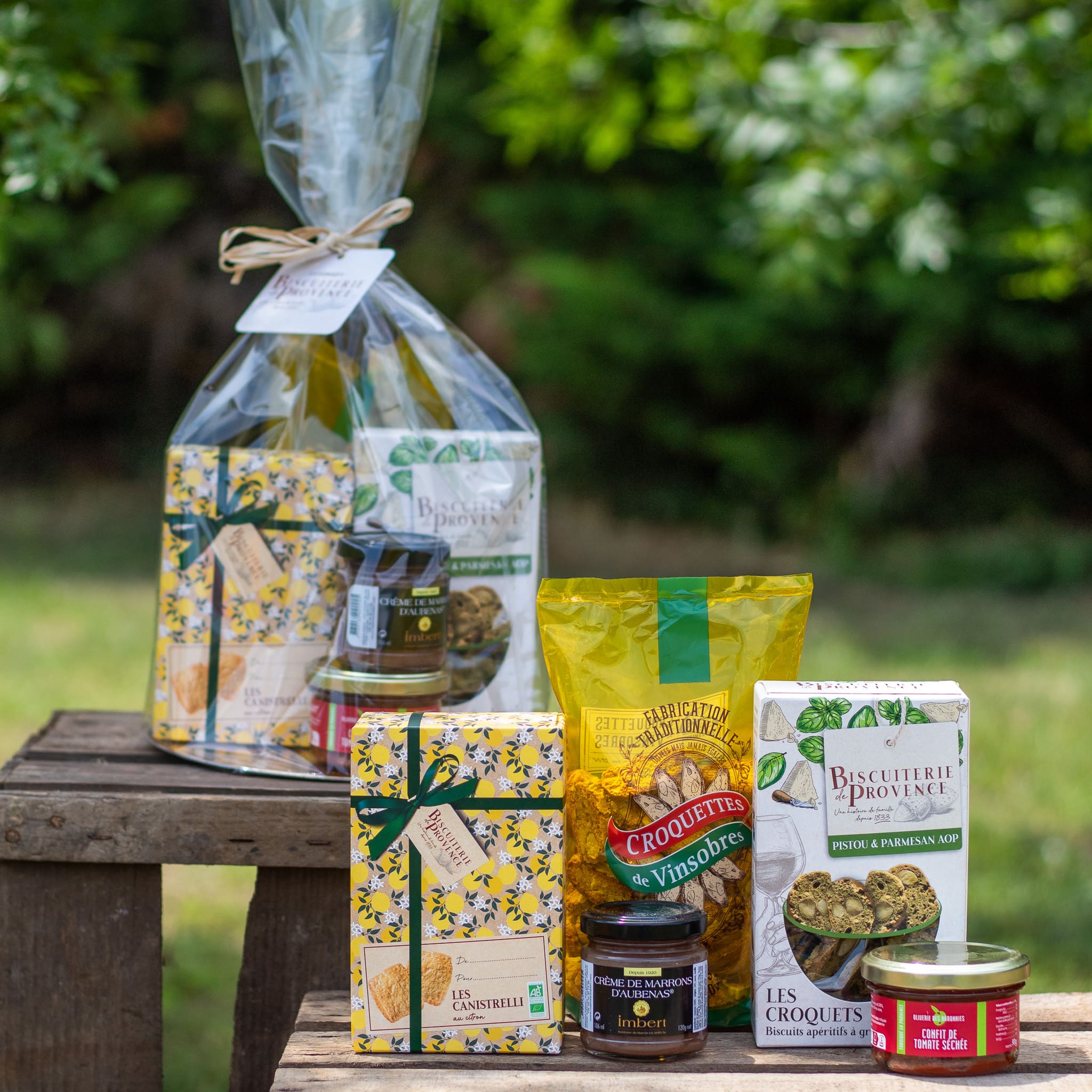 Contact us to design original and gourmet corporate gifts
Don't miss the opportunity to surprise and delight your customers with business gifts that stand out for their quality and added value. Give them moments of happiness and indulgence during this Christmas and end-of-year celebrations. Contact us today to discover our selection of corporate gifts and let us guide you in choosing gifts that will make your customers' eyes shine.
Let's celebrate this end of the year together by creating moments of sharing and conviviality with our local and gourmet delights! Do not search anymore ! Let us bring your dreams of customer gift boxes to life for this unforgettable end of the year. Our dedicated team is ready to accompany you from A to Z in the design of tailor-made gifts that will amaze your customers.
By contacting us now, you open the doors to a unique experience where your wishes and your budget are our top priority. From the selection of quality products to the customization of elegant boxes, we will ensure that every detail is in perfect harmony with your vision. Trust our expertise, and together, let's create business gifts that will make an impression and strengthen your precious ties with your customers. Contact us today, and see your ideas come to life under our expert care!
Contact us
by mail : contact@biscuiteriedeprovence.com
by phone : +33(0)4 75 26 02 98 monday to friday from 9am to 6pm
by contact form
We will be happy to put you in touch with your privileged interlocutor present in your sector
La Fabrique c'est un savoir-faire ancien autour de l'amande,
depuis 6 générations, décliné aujourd'hui sous trois marques gourmandes...